Kai Stapel
My name is Kai Stapel. I'm a Software Engineer interested in better understanding and improving the way teams develop software. So my Information Flow Theory of Software Development (German) focuses on communication among developers as well as on communication between developers and stakeholders.
Currently, I'm a PhD student in the Software Engineering research group at Leibniz Universität Hannover. I submitted my thesis and I'm about to graduate in April 2012.
Video of my Work
This video was created as part of the FLOW project. It illustrates key concepts of the FLOW method and how FLOW can be applied to improve distributed software development.
Tools
During my work as a research assistant and PhD student at FGSE@LUH I developed, supervised development of, or maintained tools that help to improve software development.
FLOW Editor

The FLOW Editor (German) is a web application for creating FLOW models.
Technologies
Java: Play! framework, XML
JavaScript: AJAX, jQuery, RaphaelJS
Web FLOW Map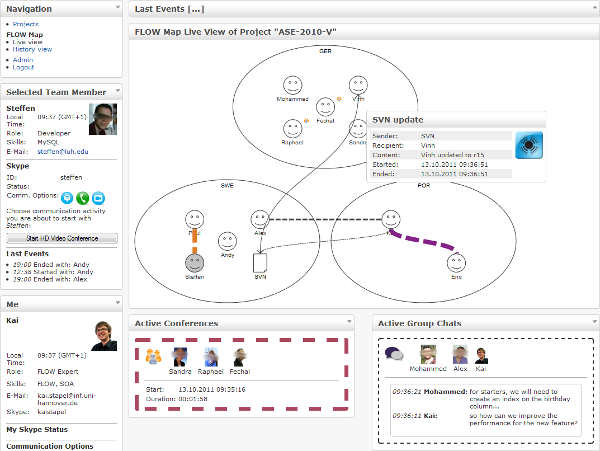 The Web FLOW Map is a web application for visualizing communication in distributed software development projects. It can be used to increase awareness in globally distributed teams and to retrospectively analyze communication.
Technologies
Java: Play! framework
JavaScript: AJAX, Comet (long polling), Prototype, RaphaelJS
ProFLOW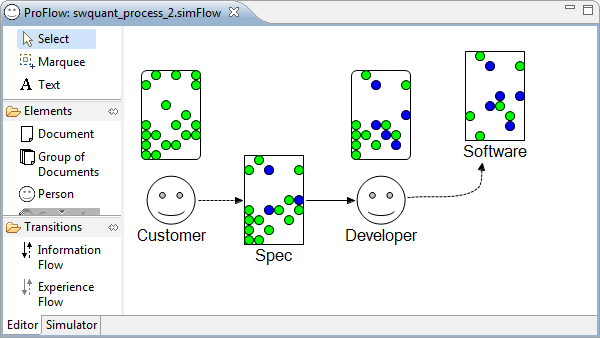 ProFLOW is an Eclipse based FLOW editor and a framework for creating graphical notations. ProFLOW was developed as part of the FLOW project.
Technologies
Java: Eclipse Plugin, Graphical Editing Framework, XML, Bezier Splines
Publications
This list of my publications can also be found at Google Scholar Citations or at my Software Engineering group profile.
Supervised Theses
This list of theses I have supervised can also be found at my Software Engineering group profile.
CV
2006 — now

PhD student and research assistant at the Software Engineering research group at Leibniz Universität Hannover.

2004 — 2006

M. Sc. in Computer Science at Leibniz Universität Hannover.

2002 — 2004

B. Sc. in Applied Computer Science at Universität Hannover.

1999 — 2001

Abitur (high school diploma)

1998 — 1999

Exchange student at Colony High School, Wasilla, Alaska, USA